CHRISTOPHER SANDFORD
finds cricket is thriving in trend-setting Seattle, which may help to break the ice with the Americans.

TURN ON the television or go to the cinema; read a paper; listen to the stereo ('grunge' and Muzak are both local products); sip a latte; boot up the latest Windows software- fly on a Boeing jet. Seattle and its brand-name goods are everywhere. Perhaps the most unpleasantly conspicuous are the dark and/or torn jeans with plaid shirts known as 'the look'. It's no easy thing to impose colour on the dogged northern grey, the native Seattle noir-flinty, foggy, dripping and, for six months, virtually monsoon-like.
Last summer, however, I came on a dramatic splash of white. Cricket isn't only being played here, it's being played well, in leagues, and miraculously it stayed fine all season. The Seattle sun, when it comes, isn't just climatic- it acts on the trees and the hills, but also on character, mood and outlook. It is the perfect backdrop.
Imagine driving south through America's Most Liveable City. To your left ridges and valleys offer a continual diet of clapboard houses, hospitals, retail neon. On the right are skyscrapers. Past them lie the docks Puget Sound and, on a clear day, the snow-capped Olympics (beyond them is China.)
The five-lane road skirts Boeing Field, where you leave it for the suburb of - most names tend to the tribal - Tukwila. You're in the equivalent of, say, Croydon. Not that it's exactly the Home Counties; no building is more than 30 years old. Most are downright ugly - casinos, apartments and strip malls - with acres of open waste. Seattle's still the wildest kind of west in all the Wild West.
Off this road, past the Golden Nugget and the Silver Dollar, a lane leads through a glade of trees, over the Green River and into a park. On one flank you see the Burlington Northern train hauling timber to the port; opposite, a screen of maples, beeches and yellow birches, with more hills beyond. It's an idyllic spot. When you sit on the bank, with no noise from the freeway, it's not hard to feel what the psalmist felt about still waters and pastures. This is where Seattle plays cricket.
And what cricket: for an ex-pat, it was like Crusoe finding those prints in the sand. These aren't just pick-up games for anyone passing. Seattle CC is part of a thriving British Columbia League (they won the title as far back as 1964), the best-kept secret on either side of the Canadian border.
Even Microsoft plays cricket: Bill Gates (as matters pertaining to anti-trust suits claimed his attention) declined to comment but his empire turns out most weekends. Like the other teams, they're well drilled on parade: punctual, disciplined, immaculately flannelled, even a striped blazer or cap.
Most players are transplants from what could be called the 'usual suspects' - England, West Indies, Australia, South Africa and the subcontinent. Many are more exotic. A few have first-class, or at least semi-professional, pedigrees. They are all competent. None would disgrace a National Village Championship Final at Lord's.
The home side goes back nearly 50 years. According to chairman Jack Surendranath, it started off as a social club, then got steadily more focused until we joined the British Columbia League who, oddly, immediately put us in their first division'. Seattle CC repaid the favour by winning it in the first year. The club never looked back.
Bowing to this successful, if mysterious cult, the Seattle Parks Department invested $30,000 to lay a pitch on one of its sites. It became the first and, for years, only ground in the US devoted only to cricket. Fort Dent Park, in the long shadow of Mount Rainier yet only 10 miles from the city centre, is no Arcadia; the quarried slagheap sees to that.
But here you commune with a pastoral America of picnics, fields and streams, all to the gentle sound of bat on ball. Add a pub and you could be on a village green.
SEATTLE now fields four teams which tour between Vancouver in the north and Portland to the south. As well as players, scorers and umpires (including your writer once), their composite folklorist-historian Deb K. Das charts results, writes reports and, if asked, engages locals on the arcana of the Ibw Law. His From Baseball To Cricket reads as a classic of its sort.
It's a well run, friendly enterprise all in all, a rural sanctuary from the Babylon just up the highway. Even around the corner from Fort Dent, you see the worst in Americana - fast-food shacks with pink, synthetic walls the last word in kitsch. That small link road, in fact, connects two worlds.
And what of the locals? Most Americans shun cricket not because it is too slow, but because it is too fast. That's not a misprint. Baseball, football and basketball, the three totems of sport here, all operate in a series of 10-second bursts, rarely leaving them-selves open to the threat of continuous play. Chronic delays, interminable whistle-blowing and an obsessive eye on statistics are all the rule, not the exception.
Above all, of course, the word 'draw' is anathema. I wouldn't dream of arguing, like a Freudian psychiatrist, that the American lust for winners and losers has to do with being a relatively young country. It may well be, though, that a century or two from now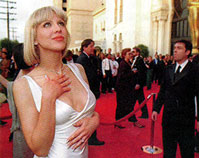 Red carpet treatment: Courtney Love, rock icon,
actress and fashionable Seattle-ite, at the Oscars.
they're ready to (as the phrase has it) 'trade up'. The steady rise of cricket in the Pacific Rim strikes me as a good omen. At Fort Dent, when a Iycra-clad jogger or power-walker nears the boundary, sniffing the air, a representative exchange tends to broach the words 'bad' and 'joke'. After 10 or 20 minutes under the maples, however, a strange thing happens. They start watching. The wisecracks dry up. They cheer catches or applaud maidens with more gusto than most harbour for Monica Lewinsky.
For a people that mostly think of 'cricket' as something that chirrups at night, it's a notable volte face. One convert said it was 'neato', both for boys and girls (I advised her to put her daughter down for MCC). A second muttered 'I'd heard about it, but I never expected to like it'. He was stunned. In a town where a new baseball stadium is ruining City Hall, football lumbers away and the basketballers - unable, it seems, to cope on a mean wage of $2,200,000 a year - are on strike, cricket stands tall. Strictly one at a time, it is winning over their hearts and minds. Ultimately that is how changes are made here - slowly and incrementally, step by step up the evolutionary ladder. Cricket in America? It will come. Whether cricket has the stomach for it is another matter. The software designers and tycoons, the pop gods and engineers translate their occupational style into the games. Some play violently, gushing sweat, haring off into the boundary leaves. These tend to be recent converts. Others are accomplices to the stars. I'll never forget the sight of the South African batsman cracking fours with the improvisation of a boy on the beach. There's the intrepid English stumper, the crescendo-like action of the Indian 'quick' In point of raw talent, Seattle fields half a dozen such gems. That's no bad quota for a far-flung outpost nearer to Russia than New York, let alone London. Indeed, the club's very remoteness makes it all the rarer. Such a side in Surrey or Kent might be mundane-on an inlet of the Pacific it's a miracle. The water comes first to mind in Seattle even more than the woods and mountains-the various docks, rivers and lakes, and Puget Sound, feeding into the ocean. There's a whiff of it as you sit under those trees at the cricket. Ports, of course, have always been the marginal places where people meet. Certainly some form of absorption goes on at Fort Dent, where you can see half a dozen races playing for a town where none of them was born. That's the beauty of the place, and also of the sport. At a time when local legislature is debating a bill to fund 'multi-ethnic arts, crafts and leisures' across the state, the most hybrid of them all is going on, unsubsidised, under their nose. Did anyone mention Bill Gates Xl versus Paul Getty's Xl? Now that would be titanic. In the meantime La Nina does its worst here, storms rolling in from Siberia with floods and the odd earthquake. When April comes and the tulips bloom, you can be sure of one thing: Seattle CC will be ready.
It may not be the World Cup, but there's no more cosmopolitan league on earth.
The Cricketer, March 1999